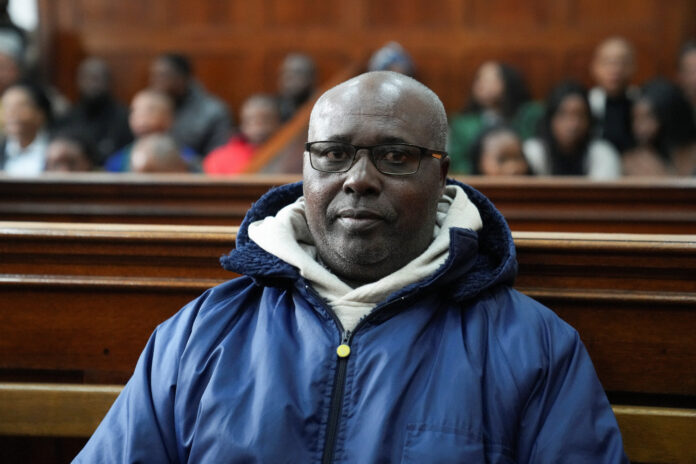 Rwanda Genocide Fugitive Arrested After 22 Years on the Run, Appears in Cape Town Court
Fulgence Kayishema, one of the few remaining fugitives sought in connection with the horrific 1994 Rwanda genocide, finally faced justice as he appeared before a court in Cape Town on Friday. This significant development comes just two days after his long-awaited arrest following more than two decades of evading capture.
Kayishema is accused of participating in one of the bloodiest episodes of the genocide, involving the merciless slaughter of thousands of men, women, and children who sought shelter in a church. Adorned in a blue jacket, black trousers, and spectacles, the 62-year-old stood before the packed courtroom, flanked by armed officers donning helmets and bullet-proof vests.
During the hearing, a state prosecutor calmly presented the accusations against Kayishema, which include charges of "genocide" and conspiracy to commit genocide, specifically related to the brutal slaughter of over 2,000 people in Rwanda during the tragic events of 1994.
Following a brief court session, magistrate Ronel Oliver ordered Kayishema to be held in custody at Cape Town's maximum-security Pollsmoor prison until his next scheduled court appearance on June 2.
The former Rwandan police inspector was apprehended at a grape farm in Paarl, a serene winelands town located 60 kilometers (35 miles) north of Cape Town, where he had been residing under an assumed identity for over two decades.
Renowned as "one of the world's most wanted genocide fugitives" by the International Residual Mechanism for Criminal Tribunals (MICT), which succeeded the UN court that prosecuted numerous high-profile suspects, Kayishema now faces the gravity of his alleged crimes.
The genocide, which unfolded over a devastating 100-day period, resulted in the ruthless massacre of approximately 800,000 Rwandans, predominantly of ethnic Tutsi descent, by Hutu extremists.
Kayishema, along with accomplices, stands accused of perpetrating the horrifying murders of more than 2,000 innocent men, women, and children who had sought sanctuary within a Catholic church in Nyange, situated in Rwanda's Kivumu district.
According to the MICT, Kayishema played a direct role in planning and executing this heinous act, including the procurement and distribution of petrol to set the church ablaze, resulting in the deaths of countless refugees.
When this sinister plan faltered, Kayishema and his accomplices resorted to using a bulldozer to collapse the church, entombing and annihilating those seeking solace inside. Subsequently, they oversaw the transfer of the victims' lifeless bodies to mass graves.
The arrest of Kayishema was prompted by an Interpol red notice, leading South African authorities to discover his long-held secret. Living under the false identity of Donatien Nibashumba, he applied for asylum in South Africa in January 2000, deceitfully claiming to be a Burundian citizen. Remarkably, four years later, he used the same alias to apply for refugee status. Spokesperson Eric Ntabazalila of the National Prosecuting Authority (NPA) revealed that Kayishema was perceived as a "family man."
In addition to the genocide charges, Kayishema will now face further allegations of fraud and violating immigration laws in South Africa, with more potential charges awaiting him as the legal process unfolds.
The world watches intently as justice finally catches up with one of the last remaining fugitives from the Rwandan genocide, providing a glimmer of hope for the survivors and victims' families who have endured immeasurable pain and loss for nearly three decades.