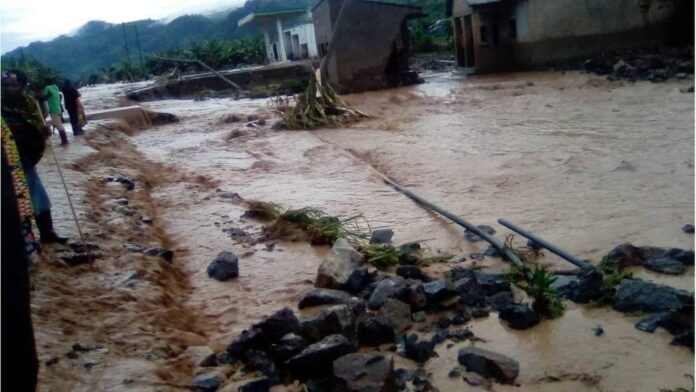 Zimbabwe has taken swift action to provide crucial humanitarian assistance to the victims affected by the catastrophic heavy rains in Rwanda. The torrential downpours triggered floods and landslides, claiming numerous lives and inflicting significant damage on vital infrastructure in Rwanda's Northern, Western, and Southern provinces.
The calamitous events unfolded during the night of May 2 to May 3, resulting in the tragic loss of 131 lives and displacing over 9,000 people. Moreover, 6,206 houses and key structures such as roads, hydropower plants, and factories were either destroyed or severely damaged.
World leaders have expressed their heartfelt condolences to President Paul Kagame of Rwanda in the wake of these devastating heavy rains. Monica Mutsvangwa, Zimbabwe's Minister of Information, Media, and Broadcasting Services, has affirmed her country's commitment to mobilize substantial humanitarian support for the affected individuals in Rwanda.
Minister July Moyo of Zimbabwe's Ministry of Local Government and Public Works, during a Cabinet briefing regarding donations destined for flood victims in Malawi, emphasized that Zimbabwe is resolute in extending humanitarian aid to Rwanda as well.
Furthermore, Zimbabwe has extended its humanitarian assistance to Malawi, which suffered immense devastation from floods, mudslides, and wind damage caused by Tropical Cyclone Freddy in the southern region. Nearly 500,000 people in Malawi were adversely affected, resulting in 326 fatalities and approximately 800 injuries.
The assistance being dispatched to Malawi encompasses vital provisions such as cement, wooden housing units, mealie meal, clothing, shoes, and a diverse range of essential items including detergents, sanitary pads, and medical supplies.
Mutsvangwa has stated that comparable support will also be extended to the Democratic Republic of Congo and Rwanda. In the South Kivu province of the DRC, recent cataclysmic flooding and landslides have claimed the lives of at least 411 individuals, with around 5,500 people still reported missing and thousands left homeless.
In a rapid response, Rwanda's Cabinet approved an emergency response plan on May 8 to provide urgent relief to the affected communities. This plan aims to reinforce the ongoing efforts and directs relevant institutions to promptly implement the response strategies.
Through these concerted efforts, Zimbabwe, alongside global leaders, exemplifies solidarity and unwavering support for the victims affected by the heavy rains and subsequent disasters in Rwanda, Malawi, and the Democratic Republic of Congo.
The provision of humanitarian aid, encompassing essential supplies and resources, endeavors to alleviate the suffering of those affected and contribute to the rebuilding and restoration of these shattered communities in the aftermath of these devastating events.