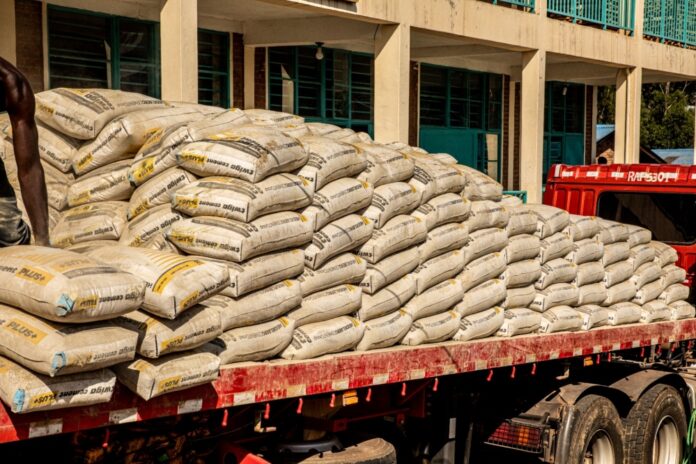 Twiga Cement, also known as Tanzania Portland Cement Company Limited, has made a generous contribution to aid the victims of recent disasters in Rwanda's Western, Northern, and Southern provinces. The company has donated 1,280 bags of cement to the Ministry in Charge of Emergency Management (MINEMA) to assist in the restoration and reconstruction of houses.
Twiga Cement is a prominent cement manufacturing company in Tanzania and a proud member of the esteemed Heidelberg Cement Group. Since its establishment in 1966, the company has been actively engaged in the manufacturing and distribution of high-quality cement products.
Philippe Habinshuti, the Permanent Secretary of the Ministry responsible for Emergency Management, expressed sincere appreciation to Twiga Cement for their assistance and unwavering commitment to supporting those affected by the disasters. He acknowledged the continuous support received from individuals, organizations, and international friends in both the short and long term.
During the delivery of construction materials, Augustin Mukama, the representative of Twiga Cement Limited, emphasized the company's refusal to remain idle in the face of these distressing disasters. He emphasized the belief that true friendship is exemplified through aid in times of need, highlighting Rwanda as a valued partner and acknowledging Twiga Cement's recognition of this fact. In addition to various forms of ongoing support to the victims, Mukama stressed the cruciality of reconstructing houses and infrastructure to enable affected individuals to reclaim their normal lives.
Mukama further emphasized that providing construction materials to the disaster-affected population through the Ministry of Emergency Management is a gesture of sympathy toward those affected and a demonstration of support for the Government of Rwanda. The timely assistance aligns with MINEMA's forthcoming collaboration with government bodies and partners to construct new houses in safer areas, specifically targeting vulnerable victims who have lost their homes entirely.
The cement donated by Twiga Cement is of exceptional quality, known as "Twiga Plus," and is highly recommended for large-scale infrastructure projects. With its rapid hardening properties, this cement type ensures early strength or a higher strength class, making it ideal for various construction purposes.
As the Government of Rwanda, together with its partners, diligently works toward recovery and reconstruction efforts, the Ministry responsible for Emergency Management appeals to individuals and organizations to provide additional support. The substantial contributions received through various communication channels will play a significant role in helping the affected population regain stability and rebuild their lives.
The impact of the recent disasters is staggering, with 5,963 houses destroyed and 20,326 people left homeless. Addressing these challenges requires a collective effort and a compassionate response from all sectors of society.