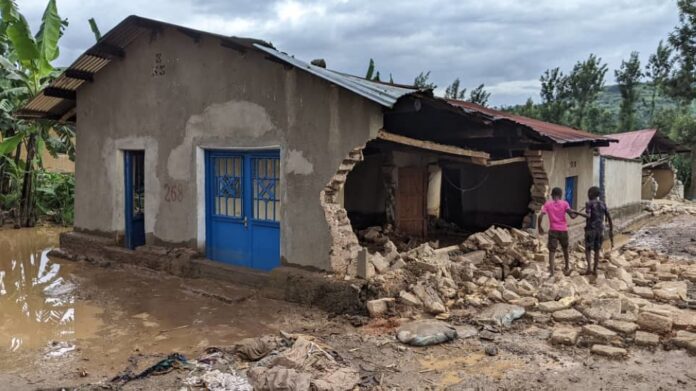 Rwanda In Need of Close to $12 million To Relocate Families in High-Risk Zones
Philippe Habinshuti, the Permanent Secretary of the Ministry responsible for Emergency Management (MINEMA), has emphasized the urgent need to relocate more than 19,000 households residing in disaster-prone regions across the country to safer locations.
During a presentation on MINEMA's spending priorities for the upcoming fiscal year at the budget hearing for 2023/24, Habinshuti made a compelling appeal on May 11. He highlighted the critical importance of providing a secure living environment for the affected households.
The Ministry of Finance and Economic Planning, however, did not allocate the required funds for the relocation project. Habinshuti stressed that a budget of over Rwf13.9 billion is necessary to facilitate the relocation of these households from high-risk zones. The implementation of this project is slated to begin on July 1, coinciding with the start of the next fiscal year.
Explaining the gravity of the situation, Habinshuti stated, "Through our assessment, we have identified 19,179 families residing in extremely high-risk areas that could endanger their lives in the event of a disaster. Regrettably, the necessary funds are currently unavailable."
The consequences of insufficient funding for long-term relocation solutions have become evident in recent events. Devastating floods and landslides caused by heavy rainfall on May 2 and May 3 claimed the lives of more than 130 individuals in various districts of the country. Habinshuti highlighted the pressing need to address this issue comprehensively, as the lack of funds not only endangers lives but also leads to substantial response costs.
To ensure the safety and well-being of the affected population, Habinshuti proposed redirecting the resources typically allocated for recovery efforts towards proactive measures aimed at building resilience to potential disasters. This strategic reallocation of funds could result in significant long-term benefits by safeguarding lives and minimizing the need for emergency responses.
Faustin Vuningoma, Coordinator at the Rwanda Climate Change and Development Network (RCCDN), echoed the urgency expressed by Habinshuti. Vuningoma emphasized the mobilization of resources to resettle individuals residing in high-risk zones to safer areas. Such proactive measures are essential for mitigating the risks posed by natural disasters.
In agreement with the call for action, MP Omar Munyaneza, Chairperson of the Lower House's Committee on National Budget and Patrimony, underscored the collective responsibility of protecting people's lives. Munyaneza assured that parliamentarians will engage in discussions with the Ministry of Finance and Economic Planning regarding the allocation of funds for relocation. This collaborative effort aims to address the issue effectively and prioritize the safety of citizens.
As the urgent need for relocating households living in disaster-prone areas becomes increasingly evident, the government and relevant stakeholders must act swiftly to secure the lives and well-being of vulnerable communities. By allocating adequate funds and implementing proactive measures, Rwanda can strengthen its resilience and protect its citizens from the devastating impacts of natural disasters.