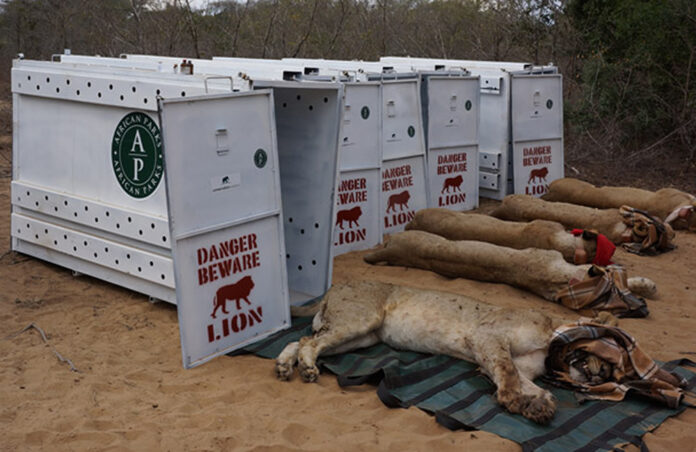 People know lions as the most dangerous prey eater in the wild but when it comes to beauty, no one can resist its naturally sport light yellow-brown coats which out shine the green grass and vegetation in the jungle.
The most desired encounter in Africa game viewing are the lions especially if moving as a family. The males are always looking unique and always lead others to grab the prey. Mature lions are too protective and care for their young ones like humans that they can't hunt until one year old. Besides, the elders can steal, kill for the young ones to survive in the wild. In the entire world, lions are celebrated in history and their existence make the wild the most adorable place to spent time with family on any holiday as you view lions and other wildlife flex to survive in the wild.
Today lions have made Rwanda to return to its glory of offering amazing wildlife tours to travellers. After a short while of Rwanda lion reintroduction in Akagera National park, the great news came with joy that when the park female lions are set to give birth creating a complete family of lions with cubs for wildlife seekers.The expectant lioness that was imported last year from South Africa is set to bring a new family members which will spice up more the all the Rwanda game viewing tours for travelers year round.
It was in 2015 when Rwanda celebrated the reintroduction of seven lions five female and two male wiping away the sorrow of travelers who could travel millions of miles to catch up with lion viewing in the neighboring countries of Uganda, Kenya and Tanzania. The attractive Big cats in the savanna grassland are grand prize to Akagera National Park and Rwanda as a country after a long time decline in wildlife population. "There is an excitement at the Park as the lionesses introduced last year are showing signs they will deliver cubs very soon.
The behavior of two lionesses shows that they are pregnant and may give birth soon. This is an important milestone in wildlife conservation," Jes Gurner, manager of Akagera National Park told reporters on Wednesday. The park manager also observed the lion bellies becoming relatively massive, and their movements declined which are common signs of mature pregnancy and holding just on await list of delivery.
The Wildlife conservationist added joy to the celebration when they said that a single female lion can produce over four cubs though the chances of survival are minimal due to wild predators, like hyenas in the park. Besides, lately lions in Akagera are easily spotted because the pregnant females move slowly giving chance to game viewing tourists to capture exciting moments.
However, travelers looking at visiting Rwanda for primate safaris to see mountain gorillas, golden monkeys and chimpanzees in Nyungwe forest should now starting adding on other exciting game viewing activities in Akagera national park  for an outstanding Rwanda safari. For bird lovers this is a place to be where one can spot hundreds of different bird species including the epidemics.
Relaxation and leisure by lake, climbing the Rwanda volcanoes and a culture exploration are other travel activities which one shouldn't miss out while in Rwanda. Don't forget climbing any of the Rwanda Volcanoes including Karisimbi, Bisoke and Sabinyo needs when you fit enough. The Big five fans, the time is out for you to visit Rwanda because even rare black rhinos will soon be in Akagera national park the only Rwanda special wildlife viewing ground. The process of reintroducing missing wildlife species in Rwanda has boosted Rwanda's tourism industry attracting more tourists compared to the previous years when the Rwanda Development board registered revenue receipts worth 304.9 million U.S dollars.
Rwanda hosted a total number of about 1.22 million visitors in the same year but the number is anticipated to shoot high due to the new picture the country has got in the tourism industry and business aspect. While in on Rwanda wildlife safari to all the country's attractive parks, expect to see mountain gorillas, chimpanzees, zebras, giraffes, hippo, antelopes, buffaloes, elephants, golden monkeys and many others.