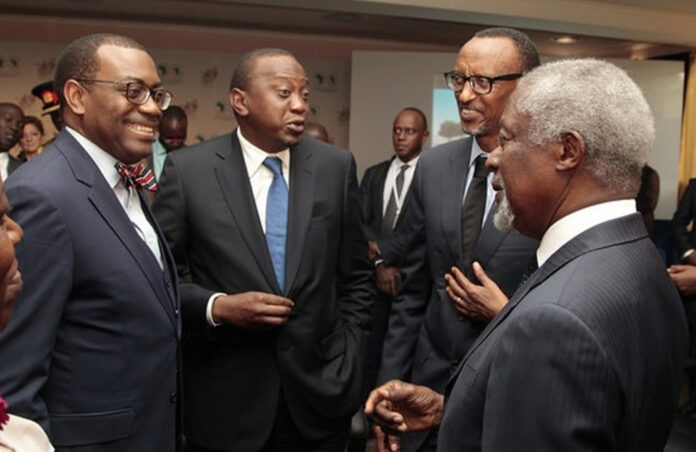 President Paul Kagame and his Kenyan counterpart Uhuru Kenyatta have endorsed the 'New Deal on Energy', a vehicle through which the African Development Bank (AfDB) will invest in delivering electricity for all Africans, by 2025.
Both Kagame and Kenyatta were speaking on a live CNBC-Africa television debate that also featured AfDB president Dr Akinwumi Adesina, yesterday afternoon, on the sidelines of the 51st AfDB Annual Meeting ongoing in Lusaka, Zambia.
Speaking to a fully packed audience, the three leaders shared their ideas on the 'path to universal access to energy in Africa by 2025', which is what the AfDB's new deal on energy intends to achieve under President Adesina's leadership.
"This new deal on energy is a big deal for Africa," said President Kagame adding that it brings a new momentum in the efforts of doing what Africa should otherwise have done, long time ago.
Kenya President Uhuru Kenyatta also backed the 'new deal', noting that Africa has a lot of potential in renewable energy sources that just needs further enhancement.
"We have heard and had enough of the theory. It is now time for practical engagement by supporting the AfDB to leverage Africa's huge potential," said President Kenyatta.
In his remarks, Adesina noted that Kagame and Kenyatta represent what Africa needs most at the moment, the political will to translate Africa's potential into tangible benefits for its people.
"Money is not the key. Political will is all we need to get things done," said Adesina.
Dr Adesina noted that although it is true that Africa has a lot of energy potential, industries don't run on potential, they run on energy.
The AfDB has pledged to commit $12 billion over the next five years to invest in energy alone and ensure there is access to electricity for all Africans by 2025.
Currently, only about 16 per cent of Africans are said to be connected to some sort of energy source, with another over 645 million Africans having no form of access to electricity, while over 700 million persons don't have access to clean energy for cooking.
The goals include expanding grid-power by 160 Giggawatts, connecting 130 million people to grid, another 75 million people connected to off-grid sources and 150 million households to clean cooking energy.
The 51st AfDB Annual Meetings are being held under the theme, "Energy and climate change," and this, according to Adesina, is for a good reason, because by solving Africa's electricity challenge, natural resources, such as forests, will be saved.
President Kagame backed Dr Adesina's thoughts on electricity noting that, on top of being tired of darkness, Africa is also tired of poverty which can be addressed through industrialization and creation of jobs for the youth .
"There is pressure from our people and there is commitment among the leaders to deliver but we must find ways of accelerating our progress to deliver results faster," said President Kagame.
According to President Kenyatta, investing in inter-connectivity of countries is among the areas that need to see more efforts from African leaders.
"We must look at energy as any other commodity that we can trade among ourselves. We must invest in connectivity to enable those that have more of electricity resources to share with those that have less of it," he said.
President Kagame cited an example where a deal between Rwanda and Kenya to export 30 megawatts to the former has been rendered impossible because of lack of a transmission line between the two countries; this he noted, was a key area for investment.
All three leaders concurred on the need to involve the private sector into investing in energy and noted that countries should begin by advancing reforms in their respective energy generation and distribution sectors to open up space for new players.
Heads of State and Government at the summit also included Presidents Edgar Lungu of Zambia and Idriss Deby of Chad. Nigerian Vice-President Yemi Osinbajo, Prime Ministers of Tanzania and Mozambique – Kassim Majaliwa and Carlos Agostinho do Rosário, respectively, were also in attendance.
Other high-profile attendees include singer Akon, Kofi Annan, Aliko Dangote, Ashish Thakkar, John Kufuor, Mary Robinson, Mo Ibrahim, Nancy Lee, Ngozi Okonjo-Iweala and Tony Elumelu, among others.