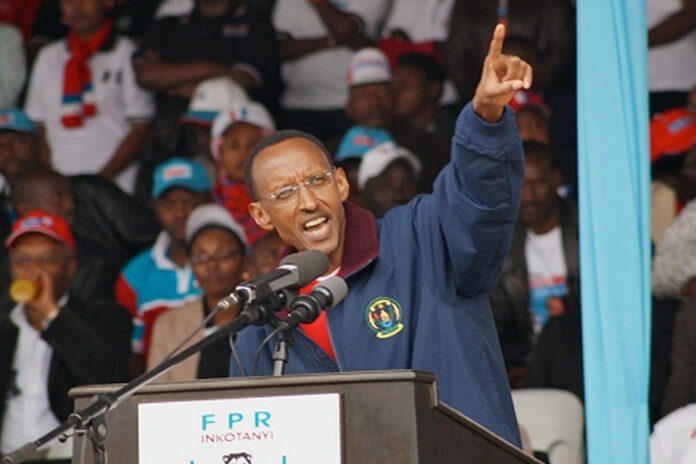 President Paul Kagame
President Kagame was born on October 1957 in the Gitarama Prefecture. His parents Deogratius and Austeria Rutagambwa hail from Central Rwanda. However the massacre of the 1960s forced the family to leave Rwanda and become a refugee in Uganda. It is here that President Paul Kagame completed his primary and secondary education. He was a founding member of the Ugandan National Liberation Army along with Yoweri Kaguta Musuveni (President of Uganda) that successfully overthrew the tyrannous and treacherous rule of Idi Amin. From 1980 to 1990, President Kagame served as an officer in the UNLA.
In 1990, President Paul Kagame graduated from a Staff and Command course at Fort Lavenworth in Kansas, USA.  Shortly after, President Kagame returned to Africa to lead the Rwandan Patriotic Army (RPA). After spending over 34 years in exile, President Kagame finally returned to his homeland –Rwanda in 1994.
His efforts immediately ended the tragic genocide which claimed the lives of nearly a million Rwandans and he received a heroic welcome back to his homeland.
In July of the same year, he was appointed as the Vice President of Rwanda and Minister for Defence in President Pasteur Bizimungu's Government of National Unity. Later in 1998, he was elected the Chairman of the Rwandan Patriotic Front.
He first assumed the office of the President of Rwanda on April 17th, 2000 through a unanimous election by the transitional assembly. He has since been re-elected to the 7 year Presidential term twice – in the elections of 2003 and again in 2010.
President Paul Kagame holds a diploma in Professional Management and Business Studies from the Open University of London, U.K.
He is the recipient of multiple accolades including Honorary Doctorates from the Vellore Institute of Technology, India and the Oklahoma Christian University, USA. He has also been awarded the Andrew Young Medal for Social Progress, the African National Achievement award, the ICT Africa Award and an Honorary Degree by the University of the Pacific, USA.
The President is a tennis and football fan and chief benefactor of the Kagame Interclub Cup (CECAFA Club Cup) that is contested by clubs from East and Central Africa and has in recent years been instrumental in promoting football in the continent.
The First Lady – Jeannette Kagame
Jeannette Kagame, the First Lady of Rwanda was born as Jeannette Nyiramongi on 10th August, 1962. She returned with her husband President Kagame to Rwanda following the tragic genocide of 1994.
As the First Lady, She is a major well wisher of the Organization of African First Ladies against HIV/AIDS (OALFA) in 2002 and served as its president from 2004 to 2006.
She has also been involved in a variety of charitable organizations in the country including those benefiting HIV patients, widows, orphans and the underprivileged. She hosted the First Ladies Summit on Children and HIV prevention in Kigali in May 2001. In addition, she is on the board of directors for several organizations that empower the poor, create awareness and promote education and health. These include the Friends of the Global Fund Africa and the Global Coalition of Women against HIV.
The First Couple of Rwanda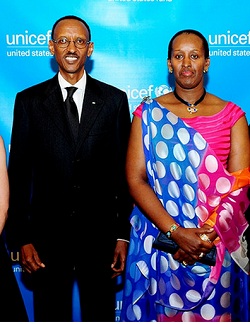 It was during his years of hardship and exile that President Paul Kagame met Jeannette Nyiramongi. The meeting had been arranged by their relatives. Jeannette Kagame already held great respect for President Paul Kagame as she was familiar with the RPF's work to topple the treacherous regimes in Africa. The President journeyed to Nairobi in Kenya (where Jeannette Kagame used to live) and persuaded her to travel to Uganda to meet him again. The now President Paul Kagame and First Lady of Rwanda – Jeannette Nyiramongi were married on June 10th, 1989. The First Lady adopted her husband's sir name and became Jeannette Nyiramongi Kagame, referred commonly as Jeannette Kagame. The couple share an interest in serving the people and have been happily married and deeply devoted to each other.
The Kagame Family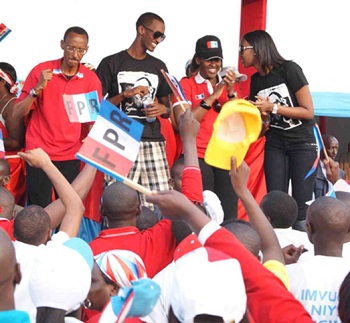 President Kagame and Jeannette Kagame started a family of their own in 1990 with the birth of their first child Cyomoro Ivan Kagame. They now have four children – three sons and a daughter.
Besides President Kagame and the First Lady, their family includes Ivan Kagame also Yvan kagame or Cyomoro Kagame; their only daughter Ange Kagame, Ian and Brian.
Although both Ivan and Ange, the eldest of President Kagame's kids were educated abroad; the Kagame family always enjoys spending time with each other and share a strong bond. President Paul Kagame's children also participated actively during the 2010 Rwanda presidential elections and helped their father win a landslide victory.
Ivan Kagame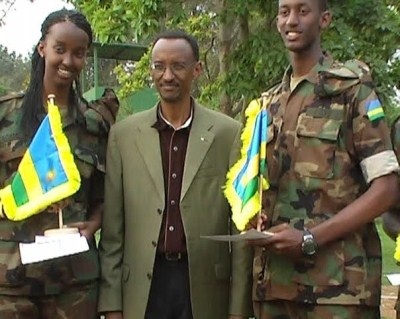 Is the eldest of President Paul Kagame's sons. He was educated abroad due to security and privacy concerns.
On being of legal age, he joined the Rwanda Defense Forces (RDF). He was later enrolled to the West Point Academy in USA and returned to Rwanda after graduating the same.
As a child he was influenced by his mother and continues in her footsteps to participate in various charity and welfare events.
Ange Kagame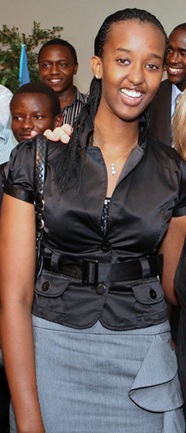 Is President Paul Kagame's second child and only daughter. As President Kagame's daughter, she completed her education abroad for security and privacy reasons.
Like her mother, she is passionate about social service and campaigns for several causes including Women Empowerment, Education and Poverty Eradication.
Ian & Brian
Are the youngest of President Paul Kagame and First Lady Jeannette Kagame's children. They both study at the Eaglebrook Junior Boarding School for boys.