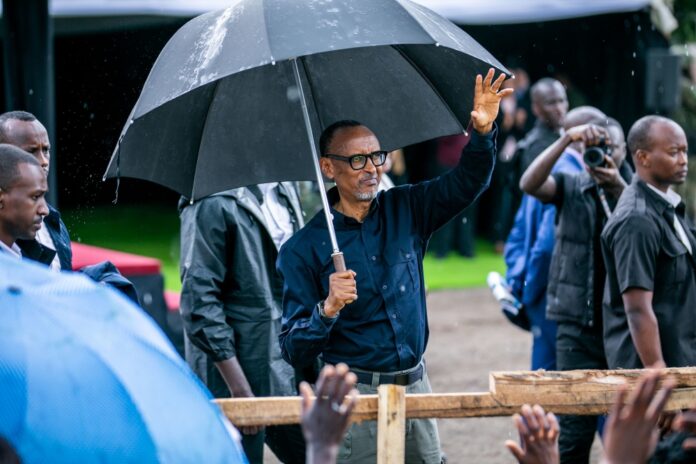 President Kagame Assures Support to Disaster-Affected Residents in Rubavu District
In a compassionate gesture, President Paul Kagame visited the residents affected by a recent disaster on Friday, May 12th, and pledged unwavering support for their recovery efforts. The calamity, triggered by heavy rains that wreaked havoc across the northern, western, and southern provinces of the country, resulted in the loss of at least 131 lives, numerous injuries, and a significant number of people requiring hospitalization.
Promptly responding to the crisis, the government swiftly initiated emergency measures, including the evacuation and temporary relocation of residents from high-risk areas to secure campsites. Complementing these efforts, first aid relief supplies were promptly dispatched, while a nationwide funding drive led by concerned Rwandans successfully raised over Rwf10 million within a remarkable span of less than 24 hours, starting from May 6th.
President Kagame, during his visit to the temporary site at Nyemeramihigo in Rugerero Sector, Rubavu District, interacted with a sizable gathering of 2,513 affected individuals. Additionally, other sites within the district, namely Rugerero with 344 residents, Kanyefurwe with 1,666 residents, and Nyamyumba with 532 residents, were also assessed by the Head of State.
Reassuring the affected residents, President Kagame conveyed the government's resolute commitment to closely monitoring their situation and extending comprehensive support in every possible manner. He expressed, "We are profoundly concerned about your well-being and are leaving no stone unturned to aid you during these trying times. It is our firm belief that you will soon regain your normal lives, resuming your routines and responsibilities."
Furthermore, President Kagame emphasized that ongoing efforts would be dedicated to rectifying any deficiencies and enhancing disaster response mechanisms. Local leaders have been entrusted with the responsibility of conducting regular monitoring of the situation within the camps to ensure timely and effective interventions.
The Nyemeramihigo site, serving as a temporary shelter for the displaced residents, provides essential amenities such as tents, mosquito nets, a health center, and an Early Childhood Development center for children below the age of five. Adequate hygiene facilities have also been made available to ensure the well-being and comfort of those affected.
Hearteningly, the residents hosted at the temporary site expressed their profound gratitude for the government's swift and efficient rescue operations, as well as the provision of first aid support. Their appreciation stands as a testament to the collective resolve of the nation in times of adversity.
During his visit, President Kagame also surveyed the widespread destruction caused by the floods originating from the Sebeya River. Various infrastructure including roads, houses, and Nyundo Secondary School, which recently resumed its educational programs, bore the brunt of the devastation.
The districts most severely affected by the floods and landslides include Rubavu, Ngororero, Nyabihu, Rutsiro, Karongi, Gakenke, Burera, Musanze, and Nyamagabe. Efforts to rebuild and rehabilitate these areas will require concerted endeavors from the government and the community at large.
As Rwanda demonstrates its resilience and unity during these challenging times, President Kagame's visit stands as a testament to the nation's unwavering commitment to its citizens. With continued support, compassion, and determined efforts, Rwanda aims to restore normalcy and rebuild the lives of those affected by the recent disaster in Rubavu District.