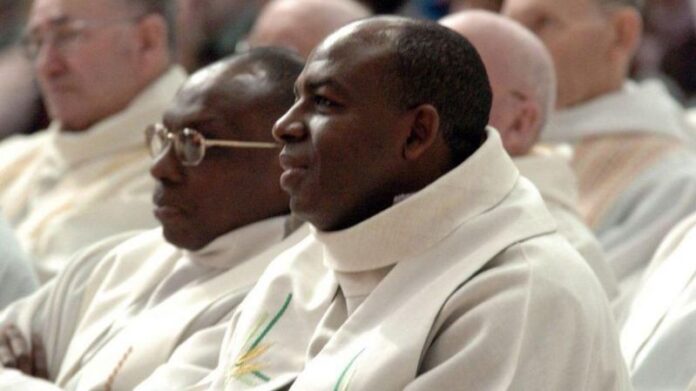 In a momentous decision, Pope Francis has issued a ban that prevents Wenceslas Munyeshyaka, a Rwandan residing in France, from serving as a priest within the Catholic Church. The official announcement came from the bishop of the Diocese of Évreux in northern France.
The communication office of the Évreux diocese has confirmed the authenticity of a letter circulating on social media, shedding light on Munyeshyaka's dismissal. However, they have refrained from offering any additional comments on the matter.
Bishop Christian Nourrichard, in a letter dated Tuesday, emphasized that the Pope's verdict regarding Munyeshyaka, who had been ordained in the Kigali archdiocese, would not be subject to appeal.
Notably, Munyeshyaka has yet to publicly respond to the decision made by the Diocese of Évreux, leaving his intentions and potential future actions unknown.
The letter issued by Mgr Nourrichard, while failing to provide explicit details, refrains from explaining the exact reasons behind Munyeshyaka's removal from his priestly responsibilities and the subsequent inability to serve elsewhere. Instead, the bishop cites a decree issued by Pope Francis in March of this year as the basis for the decision.
Munyeshyaka's journey has been marked by previous challenges, as he faced suspension from his duties at the Parish of Saint-Martin de la Risle in Brionne back in December 2021. This followed the revelation that he had admitted to fathering a child born in July 2010, according to the AFP news agency. These events preceded the recent ban imposed by Pope Francis.
It is worth noting that in December 2021, Pope Francis commented on the resignation of Archbishop Michel Aupetit of Paris, who stepped down amid allegations of an "inappropriate relationship" prior to his appointment as Archbishop of Paris. The Pope expressed his intention to address the latest report concerning misconduct within the clergy during discussions with the bishops of France.
As a result, speculation has emerged, suggesting a connection between the Pope's decision regarding Munyeshyaka and the actions taken by the Évreux diocese in December 2021.
Wenceslas Munyeshyaka, a 64-year-old individual as reported by the French newspaper Actu, currently resides in Rwanda and has been accused by the Rwandan government of involvement in the 1994 genocide.
Ordained as a priest in 1992 in the diocese of Kigali, Munyeshyaka faced allegations of complicity in the massacre of Tutsis seeking refuge at the Church of Sainte Famille.
Following the genocide, Munyeshyaka fled to France, where he sought refuge within the Évreux diocese and continued to carry out his pastoral duties.
According to AFP, Munyeshyaka has faced genocide-related charges spanning over two decades since his arrival in France. However, in 2019, he was acquitted of these crimes by the French courts.
The decision rendered by the French judiciary has drawn criticism from the Rwandan government and the families of genocide survivors, highlighting the complexities surrounding justice in cases of such magnitude.