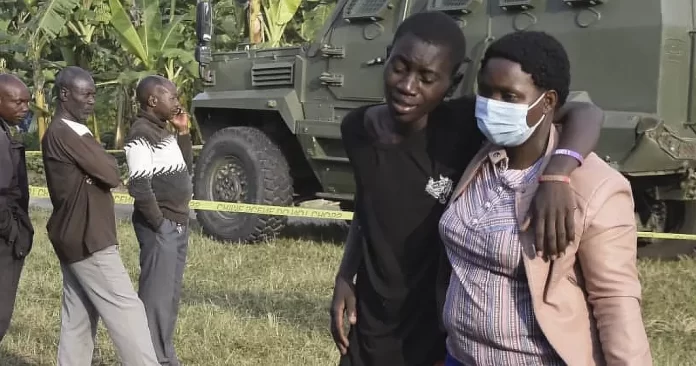 Deadly Attack on Ugandan School Leaves 41 Dead, Including 38 Students
The death toll from a vicious assault on a school in western Uganda has tragically risen to at least 41, with 38 students among the victims, according to Mayor Selevest Mapoze, who spoke with The Associated Press (AP) on Saturday.
The attack, carried out by suspected rebels, also claimed the lives of one guard and two members of the local community outside the school. The assailants, who fled across the porous border into Congo, also abducted an undisclosed number of people.
Mayor Mapoze explained that the rebels unleashed a horrific wave of violence, setting fire to a dormitory and inflicting fatal burns on some students. Others fell victim to gunshots or machete attacks.
Authorities identified the rebels responsible for the raid as the Allied Democratic Forces (ADF), a group known for launching attacks from their bases in the volatile eastern Congo.
Located approximately 2 kilometers (1.2 miles) from the Congo border, the targeted school, known as Lhubiriha Secondary School, is privately owned and co-educational.
In an official statement, the police revealed that the attackers set fire to a dormitory and looted a food store. So far, 25 bodies have been recovered from the school and transferred to Bwera Hospital, while eight individuals remain in critical condition.
Efforts to bring the perpetrators to justice are underway. Ugandan troops, as confirmed by the military, are pursuing the rebels within Congo's Virunga National Park with the aim of rescuing the abducted individuals.
Joe Walusimbi, an official representing Uganda's president in Kasese, described the horrifying scene, stating that some victims "were burnt beyond recognition."
Winnie Kiiza, an influential political leader and former lawmaker from the region, took to Twitter to condemn the "cowardly attack" and underscored the significance of schools as safe havens for students, emphasizing that such assaults are a grave violation of children's rights.
The ADF has been involved in numerous attacks in recent years, primarily targeting civilians in remote areas of eastern Congo.
The rebel group has long opposed the rule of Ugandan President Yoweri Museveni, who has held power since 1986.
Originally formed in the early 1990s by disgruntled Ugandan extremists who felt marginalized by Museveni's policies, the rebels have historically launched deadly attacks in Ugandan villages and the capital. One particularly notorious incident occurred in 1998 when 80 students were massacred in a nearby town.
Following a military offensive by Ugandan forces, the ADF was forced to relocate to eastern Congo, where rebel groups can operate more freely due to limited government control.
Over time, the ADF has forged connections with the Daesh terrorist group.
In March, suspected ADF extremists claimed the lives of at least 19 people in Congo.
Ugandan authorities have consistently pledged to pursue ADF militants, even beyond their own borders. In 2021, Uganda launched joint air and artillery strikes in Congo to combat the group's activities.
Source: Ap News