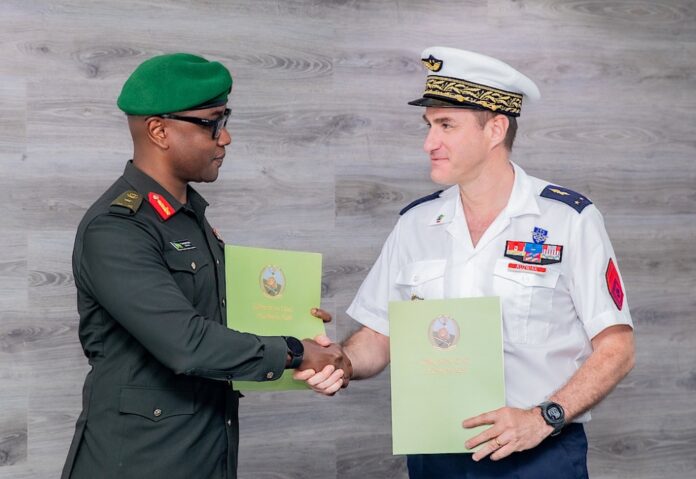 French Armed Forces Delegation Explores Enhanced Partnership with Rwanda Defence Force
A high-level delegation from the French Armed Forces (FAF) is currently on a visit to Rwanda, led by Brigadier General Fabien Kuzniak, Head of the Southern Bilateral Cooperation Department. The delegation aims to explore new avenues for enhancing the existing partnership with the Rwanda Defence Force (RDF).
In a statement released yesterday by the RDF, it was confirmed that the delegation engaged in fruitful consultations with their RDF counterparts, led by Brigadier General Patrick Karuretwa, Head of the International Military Cooperation Department. The discussions centered on strengthening the collaborative efforts between the two defense forces and fostering greater cooperation in various areas of mutual interest.
During their stay, the French delegation paid a courtesy call to Lieutenant General Mubarakh Muganga, the esteemed Chief of the Defence Staff (CDS), further cementing the bonds between the two nations' military leadership.
In a poignant gesture, General Kuzniak and his team also took the opportunity to pay homage to the victims of the 1994 Genocide against the Tutsis. Their act of remembrance serves as a testament to the shared commitment to upholding human rights, peace, and reconciliation.
This visit marks an important milestone in the ongoing collaboration between the FAF and RDF. It follows a previous visit by an RDF delegation to France in March 2022 and a subsequent one-day working visit by the French Armed Forces to Rwanda in May 2022. These exchanges serve as building blocks for deeper ties and increased cooperation between the two nations' defense forces.
As the delegation's visit continues, both the French Armed Forces and the Rwanda Defence Force express optimism about the future prospects of their partnership, with a shared commitment to fostering regional security, stability, and peace.