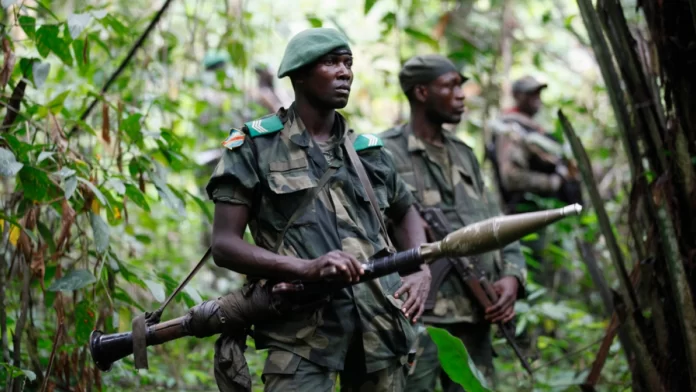 Six former members of the Democratic Forces for the Liberation of Rwanda (FDLR) who were arrested in the Democratic Republic of Congo (DRC) have been sentenced by the High Court in Rwanda to five years in prison. The men were found guilty of one of the three charges against them – being part of a terrorist organization.
The former rebels were arrested by 'General' Leopold Mujyambere and 'Major General' Joseph Habyarimana, also known as Sophonie Mucebo, who were themselves arrested in the DRC and extradited to Rwanda.
The three charges the men were facing were creating an illegal army, treason, and being part of a terrorist organization. The court found them guilty of the last charge, but cleared them of the other two.
The prosecution had asked for a much harsher sentence of 25 years, but the court decided to show leniency due to the fact that the men did not challenge the court during their trial.
During the reading of the verdict via video conference, the six defendants, who were being held in Mageragere prison in Kigali, showed no emotion and did not speak out against the court's decision.
Although they have 30 days to appeal, it is unlikely that they will do so as their sentence means they could be released from prison soon.
The former FDLR members were accused of involvement in deadly attacks in Rwanda in recent years, but denied any involvement and claimed they were forced to join the group against their will.
These high-ranking members of the FDLR were arrested in the DRC at different times before 2019 and were handed over to the Rwandan government for imprisonment.
The fact that they have already served at least four years in prison and have now been sentenced to five years means they will serve a relatively short time behind bars.
It is notable that the court decided to impose a sentence that was shorter than what the prosecution had requested, especially when compared to the 10-year prison sentences given to Ignace Nkaka (La Forge Fils Bazeye), the spokesperson of the FDLR, and Lt. Col. Jean Pierre Nsekanabo (Abega), who was in charge of the group's investigations, in 2021.