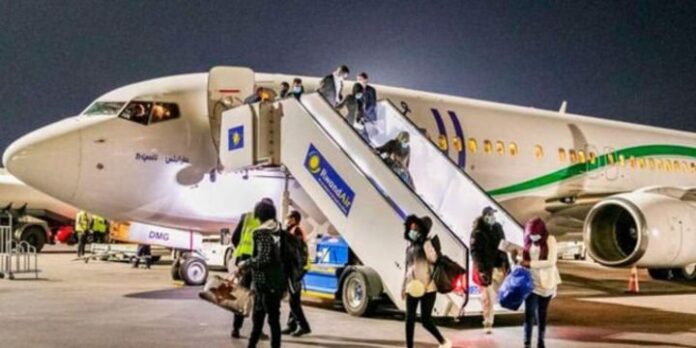 Controversial plans for the inaugural deportation flight to Rwanda faced significant challenges and criticism, leading to its cancellation just moments before take-off, as revealed by a report from the Independent Monitoring Board for Gatwick Immigration Removal Centre.
The report detailed that 11 of the detainees had resorted to a hunger strike, signalling a distressing protest against the UK Home Office's planned deportation. The government's policy on Rwanda deportations has been widely debated, with claims that it aims to curtail the influx of asylum seekers arriving by small boats.
The turn of events transpired swiftly. A European court's intervention in June deemed the Rwanda policy unlawful, preventing the flight from taking off from the Boscombe Down Ministry of Defence site in Wiltshire. This October, the government plans to contest this ruling in the Supreme Court.
These plans have not only elicited concerns about their legality but also the potential physical and emotional harm they could inflict on the detainees. The report specifically cautioned, "The board remains concerned…there is a high likelihood of real harm", emphasizing that the existing removal procedure had considerable shortcomings, jeopardizing the well-being of the men involved.
According to the data, a significant number of individuals faced potential deportation threats. At the Gatwick detention centre alone, 100 people received notices of intent for deportation. With the addition of 28 individuals from the Heathrow immigration removal centre, a total of 128 received the notice for the maiden flight. However, only seven made it to the airfield, one of whom experienced a severe panic attack.
Furthermore, the report expressed concerns about the timing of the removal directions – dispatched during the queen's jubilee weekend, making legal counsel accessibility more challenging for the detainees.
Earlier findings from the IMB's charter flight monitoring team shed light on the traumatic experiences of the detainees. Two were under constant watch due to suicide risks, one of whom was forcibly restrained. Three of the total detainees faced physical coercion. The stress and anguish were palpable, with some resorting to desperate prayers and others exhibiting intense fear.
Responding to the report, the Home Office emphasized its commitment to ensuring the safety and well-being of the detainees. The spokesperson stated, "We take the wellbeing and safety of those in our care incredibly seriously…", assuring the presence of safeguarding measures across detention centres to guarantee everyone's dignity and access to support, including legal counsel.
The debate surrounding this policy and its implications for those seeking refuge in the UK continues to evolve, drawing attention to the broader themes of human rights, international relations, and the nation's stance on asylum seekers.