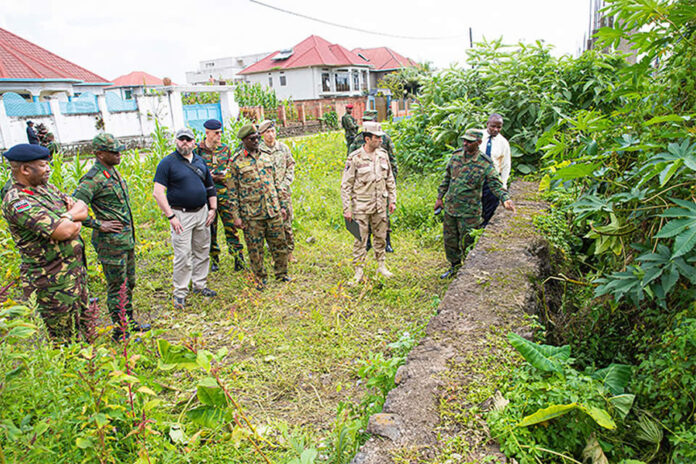 The Rwanda Army on Saturday shot dead a Congolese soldier whom they accused of crossing into Rwandan territory and shooting at their guard towers.
According to a statement released by Rwanda Defense Forces (RDF). RDF says the soldier crossed into the Rwandan border in Rubavu district, Western Province. The statement calls upon officials of the regional Expanded Joint Verification Mechanism (EJVM) to intervene and conduct investigations into the border violation by a FARDC (DR Congo armed forces) soldier.
This shooting of the FARDC soldier is the second this year after crossing into Rwanda. The first incidence happened in June where the first FARDC soldier was shot dead by the Rwandan National Police (RNP) officers while protesting on Rwandan soil at the same border point. The soldier was killed after he allegedly shot several times and injured two Rwandan police officers who were on official duty.
The second incident happened hours after a phone conversation between Rwandan President, Paul Kagame and Uhuru Kenyatta, the former Kenyan president and the facilitator of the dialogue between the DR Congo-Rwandan government impasse over the March 23 Movement (M23) rebels.
Then three months of March, June, and May artillery rockets were fired from DRC into Rwanda's districts of Musanze and Burera, causing injuries to Rwandan citizens and damaging property.
Then on May 28, two Rwandan soldiers were arrested by the Congolese army for allegedly helping M23 rebels. They were later released following mediation by Angolan President, João Lourenço.
The government of DRC has allegedly accused Rwanda for supporting the M23 rebels that have taken up the peace of Eastern Provinces of Congo. However, Rwanda has strongly denies the allegations.
Last month the DRC expelled the Rwandan ambassador in DRC Vincent Karega as the relations between the two neighboring countries are worsening. The fighting between M23 rebels and FARDC soldiers that started in March this year also resulted in the fall of the Uganda-DR Congo borders of Bunagana and Busanza into the hands of the rebels.